ITF Trademark
The ITF logo has been seen by millions of people around the world as it has been present on a daily basis around the globe via the promotion by ITF Headquarters Korea and other ITF associations. It has grown to become one of the world's most recognized brands, serving as a visual ambassador for the ITF Taekwon-Do Movement.
Our logo trademarks are legally registered in the register of the Korean Intellectual Property Office and some other countries. As a general rule, third parties may not use the International Taekwon-Do Federation (ITF) logo ("logo").
This page presents the circumstances under which third parties may use the ITF logo. The logo must always be used pursuant to the specifications on this page to identify International Taekwon-Do Federation, or International Taekwon-Do Federation products or services. Any use that falls outside of these specifications is strictly prohibited and illegal.
We provide you with the ITF logo for use on marketing materials or helping you advocate your existence on the ITF network. To deliver a consistent message, we've created this simple guide.
The gold represents the EARTH, blue represents HEAVEN and red is the POWER of the people in the ITF. Thus, together it symbolizes the creation of the world or the beginning of human history as in the initial Taekwon-Do pattern Chon-Ji.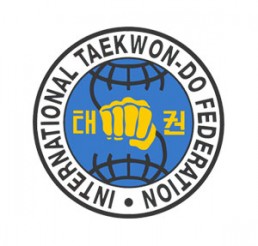 Korea, the Homeland of Taekwon-do
The new design depicts modernity with its symmetrical parallel lines and angular shapes. The 3 letters "ITF" represent the "International Taekwon-Do Federation". The colors of the letters portray Korean tradition and culture as well as Taekwon-Do philosophy. 
International Taekwon-do Federation
In Korea these logotypes are the property of the International Taekwon-Do Federation HQ Korea (ITF HQ Korea). It may grant the right to use this logotype exclusively to its active members and associates during their period of affiliation.
Korea -the Homeland of Taekwon-Do
To the extent a name or logo does not appear on this list does not constitute a waiver of any and all intellectual property rights that International Taekwon-Do Federation or its subsidiaries has established in any of its services, events, seminars, product, or logos. Please contact us for more details regarding proper use of our trademarks.