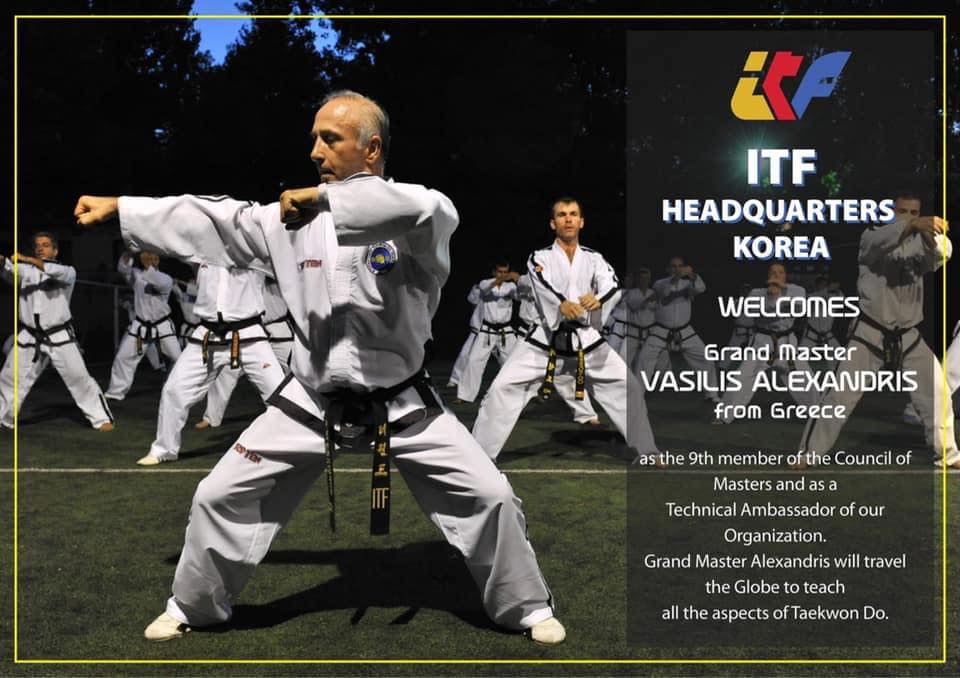 Grand Master Vassilis Alexandris was born in Thessaloniki on 9/29/1958.
He started Taekwon Do to 1972 under the guidance of Stefanos Gaidartzakis (2nd Dan then).
In May 1975 participated in the first Pan-European ITF Tournament in Stuttgart, Germany organized by Master Kim Kwang Il. 7o Dan. On 1975, he took the 1st Dan exam in Rome, Italy from the Master Park San Jae 7th Dan, the same month he founded his first club with his brother Alexandros Alexandris 1st Dan.
In 1978 he took the 2nd Dan from the Masters Kim Kwang Il, Song Sang Ho 6th Dan, Kwan Kum Sik 6th Dan and Chang Kwang Miung 6th Dan.
In 1978 he served at the Parachute Special Forces as a Taekwon Do Chief Instructor where he taught the special forces the art of TKD making demonstrations to high-ranking officers of the Greek and foreign army.
In 1980 the Pan-European Championship took place in London where he participated and won 4 medals.3rd place in sparring, 3rd place in special techniques, 3rd place in Tul and 2nd place in team sparring. In 1981 he took the 3rd Dan from Grandmaster Kwon Jae Hwa and the same year from General Chi Hong Hi and Grandmaster Ree Ki Ha the ITF degree.
In 1982 at the European Championship in Italy he took 1st place in Tul. From this year and for the next ten years he followed Grandmaster Kwon Jae Hwa because the Greek ITF was integrated with the Hellenic Federation of TKD, which represented the WTF.
In this decade with Grand Kwon he conducted numerous demonstrations in various countries as well as many seminars.
In 1984 he was promoted to the 4th dan from Master Kwon and in 1992 to 5th Dan.
In 1992, together with other former instructors, he decided to reorganize the ITF as they established the ITF coaching association where he was unanimously elected President. That same year, General Choi Hong Hi certified his 5th Dan with an ITF degree.
In 1993 I took over the National Team as a coach and from 1995 to 2003 he was a member of the Hellenic Federation of Taekwon Do, as General Secretary and Chairman of the Technical Committee. He formed the National Instructor Demonstration Team.
He worked as a member organizer of championships in Panhellenic, European and World championships and accompanied the National Team as mission leader in the championships until 2006.
In 2006 he was elected General Secretary and Chairman of the Technical Committee of Hellenic Taekwon Do Federation.
GM Alexandris conducted seminars in Greece as well in Italy, G. Britain. Belgium, Australia, Germany, Netherlands, Albania, Algeria, Serbia, Austria, Russia, Ireland, Bulgaria
Today is member and Technical Director of the International Taekwon Do Masters Society ITMS and he conducts since 1996 and every summer the International Taekwon Do Summer Camp in Greece with Taekwon Do practitioners from all over the world and all the federations.