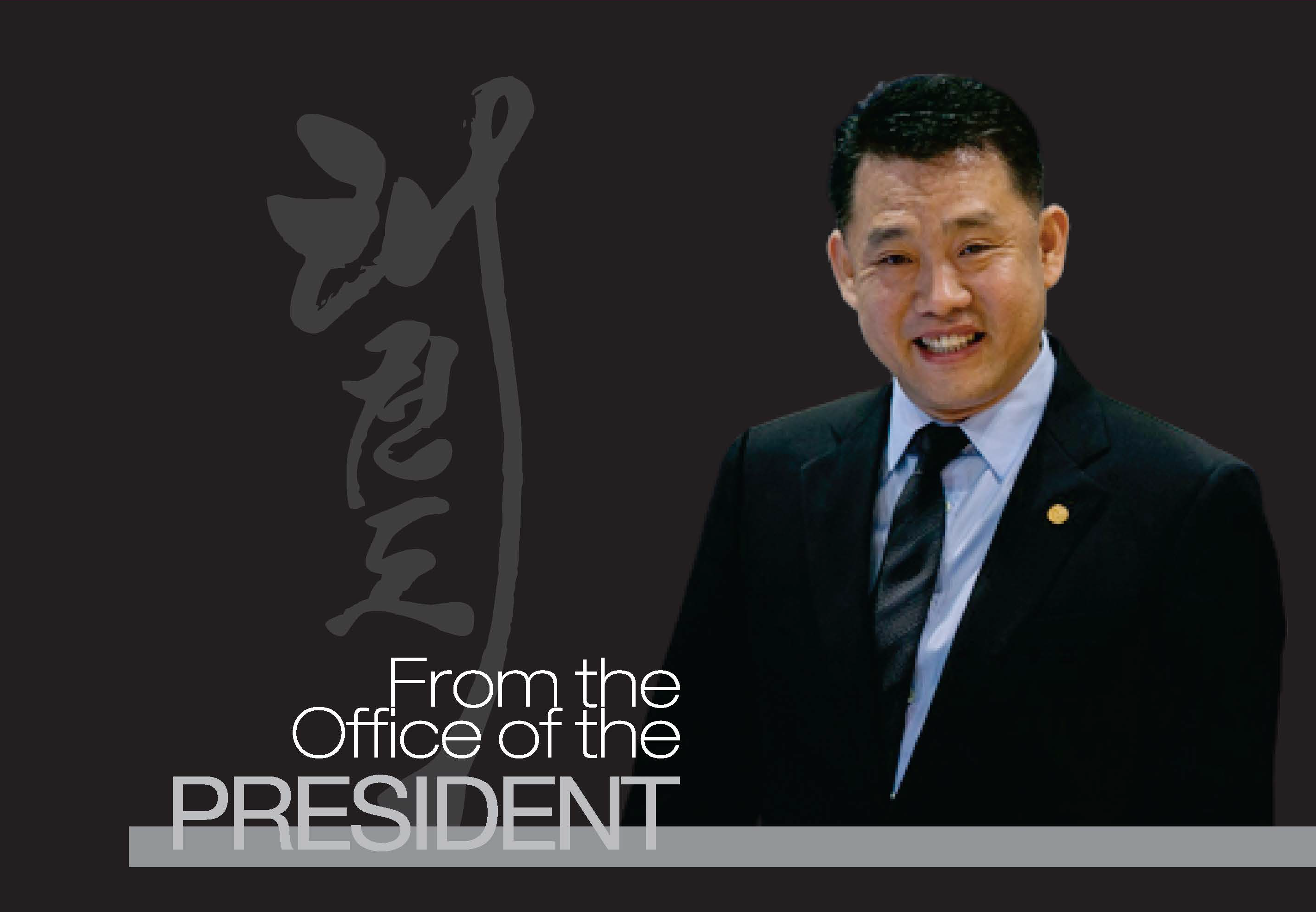 Dear Taekwon-Do Practitioners and Friends,     
As the end of 2021 approaches, I would like to reflect briefly on the challenges that Taekwon-Do has faced in the year that has passed. Obviously, the Covid-19 pandemic which has spread throughout the entire world like wild fire has affected everybody immensely, including Taekwon-Do families. Many have lost students, businesses, all this in spite of trying to survive on their own and serve students via online classes and tests. Our hope for reopening the world has recently been diminished as a new virus variant Omicron has emerged that has prompted new strict measures and challenged our indomitable spirit and patience. However, I hope that together we can overcome these challenges by taking care of ourselves and our students in a smart and scientific way.
As General Choi's disciples, we all have a very important assignment to disseminate his art regardless of the situation. Therefore, we must stay healthy and active. We as Taekwon-Do practitioners are lucky that we are guided by Teakwon-Do tenets. I believe that an Indomitable spirit is the tenet that is needed the most these days. We need to stay strong, positive and should not give up. We cannot jeopardize the time that we have spent training hard. Our training was preparing us to face such challenges and now is the time to prove it.
As the ITF president I will do my best to face any challenge, and will never disregard your trust and dedication to the art. With my administration and highly dedicated team, we will work hard to create the best environment, support and service to our members, and all ITF practitioners form around the world if they request it. Now is the time to prioritize the art and not organizational affiliation. It is time to support senior ITF members regardless of which ITF emblem or name they represent. These things have become secondary when the protection and spread of the gift the General left for us is concerned.
We would like to encourage all practitioners of this great Art to develop links with roots in homeland of Taekwon-Do, and reassure you that you will be able to do so without changing or losing your identity. It is very important for every serious Taekwon-Do practitioner to develop a sense of unity, belonging, identity and continuity especially now.
We are really looking forward to the forthcoming New Year that will present new challenges. However, we are positive, highly motivated and completely dedicated to serve our members and spread General Choi Hong Hi's legacy in its purest form to the utmost.
Merry Christmas & Happy New Year.태권  Oh Chang Jin – ITF HQ President
Korea The Homeland of Taekwon-Do
Encyclopedia of Taekwon-Do
We have been receiving many requests for encyclopedia of Taekwon-Do. Unfortunately, ITF HQ does not have copies of the Condensed encyclopedia in stock at the moment.
We used to distribute the book via Grand Master Craig Stanley (Canada), but he has left our federation. Additionally, Mr Christopher Gomez (Malaysia) was also distributing the books at some point. If you would like to get your hands on a copy, please search for them on social media to ask if this is possible.
Alternatively, Grand Master Kang's book "The way to learn Taekwon-Do" is a very interesting and easy to follow book that describes principles of the Art. GM Kang can be contacted on [www.tkdbook.info] and his book could be a great idea for a Christmas present for Taekwon-Do lovers and supporters.
ITF HQ in Korea strives to assist our members with training and resources because "Knowledge is power" [Francis Baco], and having skillful and knowledgeable Taekwon-Do exponents around the world regardless of affiliation helps to disseminate the art and the founder wishes.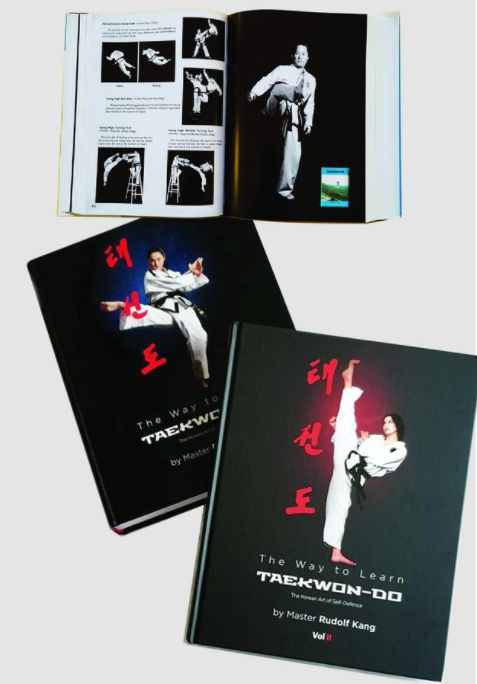 Taekwon-Do Kidokwan end of year grading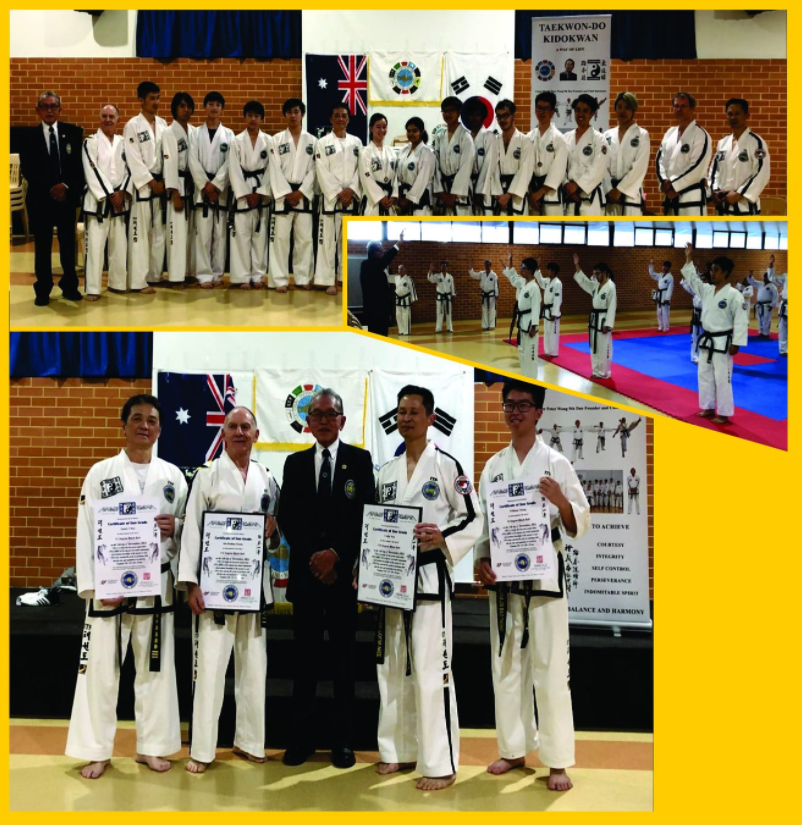 Taekwon-Do Kidokwan held its year end gradings at Riverton, West Australia, on the 16th of December. Grand Master Peter Wong was present to examine students from 10th Gup White to 7th Degree Black belts. Colin Wee was promoted to 7th Degree Black Belt, approved and endorsed by Grand Master Keith Yates from AKATO American Karate and Tae Kwon Do Organization USA. Ian Green was awarded the 7th Degree Black Belt, graded by Grand Master Isaac Harry from World ITF Taekwon-Do Council UK. Sandy Chen was promoted to 4th Degree Black Belt and William Thong was graded to 2nd Degree Black Belt. Congratulations to all successful promotions.
This special event also included demonstrations of self defence techniques, power breaks and Tuls by Master Ian Green, Master Colin Wee, Mr Tim Telcik, Mr Dylan Chen, Miss Grace Thong and Miss Laxmi Viveakananda.
GM Wong would like to take the opportunity to wish his family, friends and colleagues a very happy, peaceful and safe Christmas and a Happy New Year. We are looking forward to a better and safe 2022! Taekwon!
An Interview with GM Peter Sanders
From the desk of Sheba Agarwal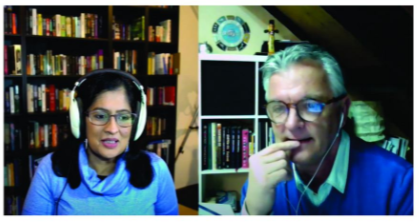 Last year, I had the great pleasure of interviewing Grand Master Peter Sanders during the pandemic lockdown in the Netherlands. Over the years, GM has learnt and practiced several other martial arts, but Taekwon-Do remains close to his heart, not only because it was the first he ever learnt, but also because he met and worked side by side with our founder, General Choi Hong Hi. My basic aim for this interview was to find GM's intrinsic motivation as a practitioner of Taekwon-Do, his experiences so far, and his vision for the future of the art. GM has been closely involved with the establishment and development of ITF Taekwon-Do in the Netherlands and it was interesting to note the course of Taekwon-Do history, which was often steered by politics and personal conflict.
GM also spoke about the changes that he has seen over the years in the art, and how he sees the future for the dojangs associated with ITF-HQ. His biggest wish is that people who train in our style can feel what they are doing with every executed technique, and really understand its application. For example, when performing a pattern, one should imagine a real opponent, and display the full intention of each move of a pattern. GM also spoke to me about his perception of Do, the spirituality of the art that transcends the physical aspect of Taekwon-Do.
I was intrigued by the holistic view that GM has about Taekwon-Do, from the "one blow, one kill" principle, to his definition of Do, and his ideas for the future and the role of women in the art. For the full interview, visit https://tinyurl.com/42jbvyhz
Honorifics and titles in Taekwon-Do

An honorific is a title that conveys esteem, courtesy, and respect for position/rank when used in addressing or referring to a person. Titles like Sir, Doctor, Professor, Lady, Lord, Master, Reverend have been used to distinguish genders, nobility, clergy, position, rank, or professional achievements.
Honorifics are also found in Martial Arts, where titles are designed to reward an individual's achievements, and recognize their rank. The rank is awarded by seniors, those in authority, and the holders of these titles are expected to exhibit respect, modesty and humility that is befitting the honorific.
The founder of Taekwon-Do, General Choi Hong Hi, also established official titles for students, assistant instructors, instructors, as well as seniors such as Masters and Grand Masters. More and more often, we see the appearance of new, self-appointed titles. For example, some 8th Dan holders call themselves "Senior Masters". Another classic bastardization of Taekwon-Do titles is "Senior Grandmaster". These titles do not exist in Taekwon-Do, which begs the question: why do titleholders in Taekwon-Do feel the need to divide their rank by adding an extra term?
This is by no means the end of this phenomenon. The latest trend is to add academic titles, such as Professor, alongside Taekwon-Do ranks. Interestingly, many of these so-called Professors have not been officially appointed to professorial positions in academia. It can only follow that these superficial titles are added to existing honorifics only to massage the titleholder's ego, and not earned as should be the case. They create division by proclaiming superiority, which goes against the principles of humility and unpretentiousness that every Martial Art dictates.
In the midst of this unfortunate chaos, ITF HQ would like to clarify the nomenclature applying to the members of our federation. ITF HQ follows the principles of the Taekwon-Do as set by General Choi Hong Hi.
First, the titles used by ITF HQ are as follows:
Founder (Chang si ja nim)
Grand Master (Dae sa beam nim)
Master (Sahyun nim)
Instructor (Sabom nim)
Assistant instructor (Bu-sabom nim)
Student (Su reun seng)
Second, we do not use titles such as "Senior Master" or "Senior Grandmaster" or any other prefixes.
Third, we do not mix academic titles and Martial art titles. If a holder of a martial art title has an academic degree, it should be positioned after the name: for example, Master John Smith (Ph.D.).
Fourth, with respect to ITF HQ administrative positions, including regional representatives and heads of committees, in the past, names such as "regional representative", "regional director", "Chairman of the Technical committee", "technical director" were used interchangeably. To avoid any future confusion, the following titles will be used by ITF HQ from now on:
The regional representative will be titled "Regional Director".
The chairman of a committee will be called "Committee Director".
At ITF HQ, it is very important to us to ensure that titles and names of positions are used correctly, are awarded to those deserving them, and given appropriate respect. We do not tolerate lack of humility, egocentrism or self-glorification, which goes against the principles of Taekwon-Do, and indeed, any Martial Art.
Tournament in Oss, The Netherlands

Competitions can be incredibly nerve wracking. Sabum Aniel Jamal, who runs the Maruti Martial Arts school in Oss, The Netherlands, wanted to make the competition atmosphere safe, friendly and accessible to everyone. To this end, he organized a small-scale competition for both beginners and advanced practitioners on December 11th, 2021. This was especially welcome as no one could participate in any tournaments and competitions due to the Corona pandemic. Because it has been such a tough time, this friendly tournament was a great motivation for everyone.
There were 5 participating schools – Tkd Ramsobhag, Jung Shin, Totally Fit, T.S. Dekker and Maruti Martial Arts. Each group consisted of maximum 3 participants, and could participate in patterns, and sparring. It was a wonderful experience with a great atmosphere.
Sabum Aniel thanks everyone for their enthusiasm and participation. Regardless of which ITF organization one is affiliated with, Taekwon-do is all for one, one for all!
Fighting Tournament in Mexico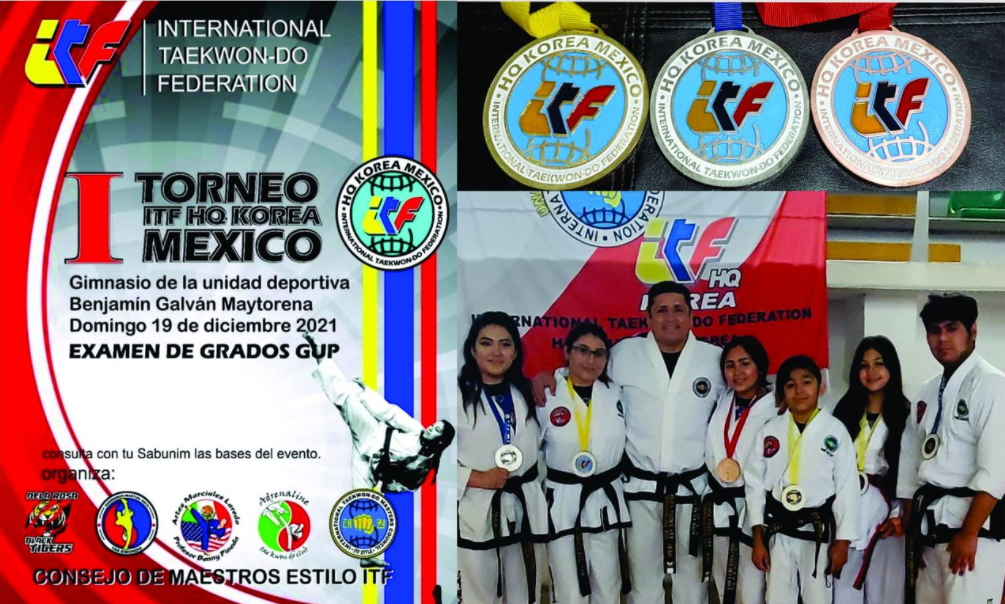 Recently, Mexico held its first Fighting Tournament under official ITF HQ KOREA regulations. More than a hundred students, from colored to black belts of all ages, gathered to win the first official medals of ITF HQ. This tournament has ushered in a new era of Taekwon-Do in Mexico. We thank parents for their invaluable support in the competition, as well as Master Steve Weston for his support with ITF HQ regulations.
A brief note on how to retain students
From the desk of Master Michael J Thompson
The efforts of Black Belts following Instructional guidelines as instructors are vitally important because it can directly impact the happiness of their students.
What are some of the factors that instructors should consider in order to stimulate a high rate of retention in their TaeKwon-Do establishments? Here are some to consider:
– Constantly meeting the aims of the students
– Having good value for money
– Providing an exciting atmosphere in the Dojang
– Ensuring great communication between instructors and students,
– Establishing good progressive and achievable programmes that are continually reviewed
– Providing realistic challenges to students
– Having a clean and welcoming Dojang
– Having motivated instructors and instruction.
Students need to feel important and appreciated, and here are some tips to ensure this:
Remember all students' names and use them at least three times during the session – when they arrive, during the class and when they leave the dojang.
Invite questions at any time.
Take personal responsibility by following through on issues and promises.
Personally greet and acknowledge everyone who comes into the dojang.
Have a positive and enthusiastic attitude and be genuinely interested in all students.
Make corrections correctly and give coaching tips in a constructive and caring way.
A top tip is to describe and demonstrate various TaeKwon-Do movements in the Dojang, and to give as much individual student contact and interaction time as possible, rather than simply walking through or standing in your dojang.
In a Nutshell – all students are individuals, so interacting with all students equally must be given top priority.

Job Opportunity in Korea after COVID-19 Recovery – Expression of Interest.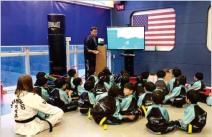 Teaching Taekwon-Do in English in South Korea.
The International Taekwon-Do Federation Headquarters in Korea is looking for young, energetic and experienced Taekwon-Do instructors (males or females), who are native English speakers, and would like to come to Korea and test their teaching skills utilizing a Taekwon-Do curriculum and a specially designed English language program. The essential criteria are:
1: Being a native English speaker
2: A minimum 1 Dan in Taekwon-Do ITF
3: Experience in conducting classes for children and teenagers.
For more information, please contact via email: korea@itfmail.org. The position(s) will be available as soon as the government regulation allows group activities to be conducted and COVID-19 restrictions eased.

Rings have been used throughout history and seem to be a universally understood and exclusive symbol that carries respect, and high esteem, whether wealth or power. In some cultures, rings are the symbol of belonging to a group or fraternity. To honour the founder of Taekwon-Do, General Choi Hong Hi, ITF HQ Korea has introduced rings analogous to the one worn by the founder as an optional part of the ITF Dan certification system.
Four individually designed ring types will be available for ITF practitioners, Instructors, Masters and Grandmasters (I – IX Dan) who are ITF HQ Korea members or mentors. Rings are also available for non-ITF HQ members. The recent "Ring" promotion has resulted in a flurry of applications, and since the rings are hand made by a small merchant, the waiting time may be up to a month. Therefore, we ask for your patience, and we will update every single applicant with a time frame for production and delivery. For those who would like to order an ITF HQ ring, please do it online following the link: https://www.itfofficial.org/ring-form/. The price is $250 USD for ITF HQ members + postage and $350 USD + postage for non-members.
ITF HQ Newsletter editorial team
Zibby Kruk (PhD, 8th Degree, Korea) – Editor-in-chief
Sheba Agarwal (PhD, 1st Degree, The Netherlands) – Editor
Luke Danskin (4th Degree, Scotland) – Editor
Michael Munyon (7th Degree, USA) – Editor
Johny Del la Rosa (7th Degree, Mexico) – Editor-Spanish
Muhammad Zaidi Surati (6th Degree, Malaysia) – editor-designer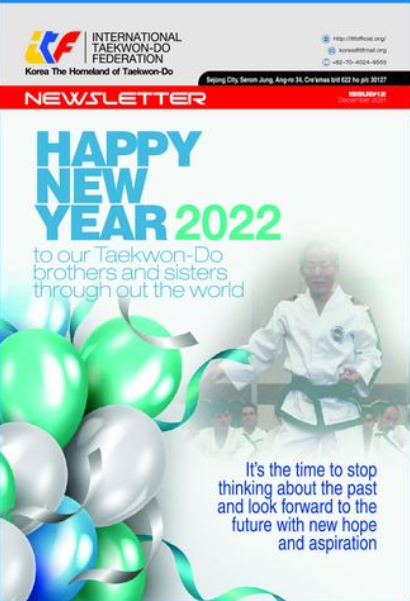 If you're an ITF HQ member and have news, updates or events you would like to have published in our newsletter; please send us a brief (1-2 paragraph) submission with photos to korea@itfmail.org. Please note that your club news should stay within your club, but we would love to share it with the Taekwon-Do community for anything else. You have worked hard to build your club and your students. Let ITF HQ help recognize your outstanding accomplishments along with your members.