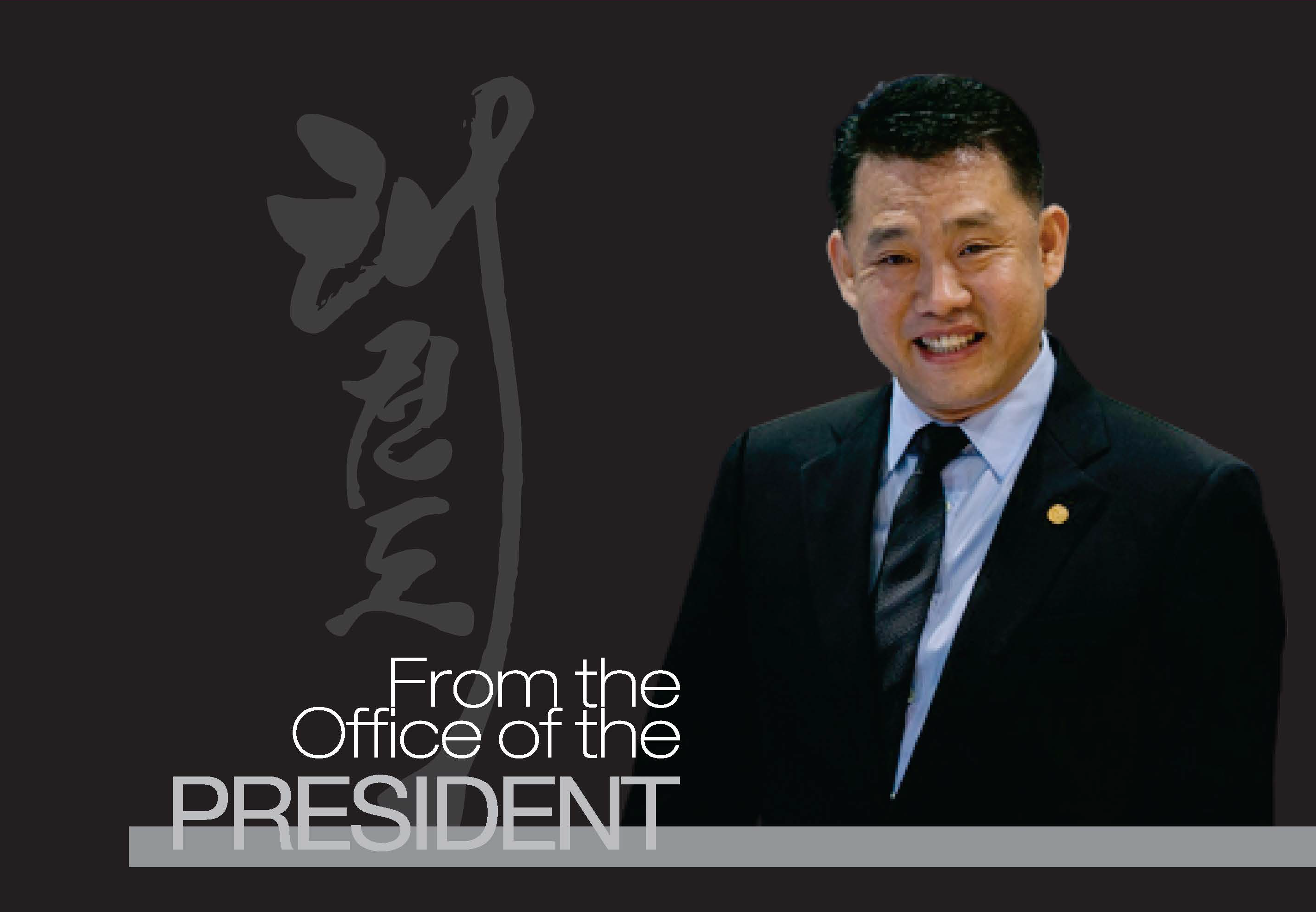 Dear Taekwon-Do Practitioners and Friends,
Everyone has been deeply disturbed by the Russian military invasion of Ukraine that has affected the lives of millions of people on both sides of the conflict.
The International Taekwon-Do Federation HQ strongly condemns this act of aggression against Ukraine and stands firmly with all who suffer because of war. We call for an immediate halt to the hostilities, and appeal to both sides to come to a peaceful and humane resolution through negotiations.
The military invasion of Ukraine has set off a massive humanitarian emergency. We worry about our Taekwon-Do brothers and sisters on both sides of the war zone, as well as all the people who have been forced to seek refuge, separated from their families. We mourn the loss of the innocent lives in this conflict. I would like to appeal to all our ITF HQ members to make every effort to aid those who are in need. Many Takewon-Do members have already been donating money and goods to help Ukrainians. Please do what you can. Please also remember our Taekwon-Do brothers and sisters in Russia who suffer not only because of the sanctions that make their lives hard, but also the distress of the world opinion associating them with the regime of the Russian government that is responsible for the war. Many of our Russian members have placed statements and comments condemning the war.
I believe that we Taekwondosits should stand strongly together regardless of the affiliation and put our efforts to follow the Founder's dreams and change the world. The voice of a single individual and the willingness of every ITF leader to make a difference will create a butterfly effect that will change the world. We are all Taekwon-Do practitioners, disciples, and believers of the Founder Gen Choi Hong Hi, and we all want the same –  world peace and prosperity Now is the time to show it in action.
Stay safe, healthy everyone, and take a firm position befitting you as a Taekwondoist.
태권
 Oh Chang Jin – ITF HQ President
Korea The Homeland of Taekwon-Do
Master Jamshid Mazaheri and GM Kaerdrup have been working in recent months to include Iran in our ITF HQ Korea family. We can now proudly announce that the negotiations have gone well. We are delighted to welcome ITF HQ Iran Association to ITF HQ Korea, under the leadership of Master Javid Shahverdi. ITF HQ Iran also has many international judges as well as competent instructors. We look forward to a fantastic collaboration.
Taekwon!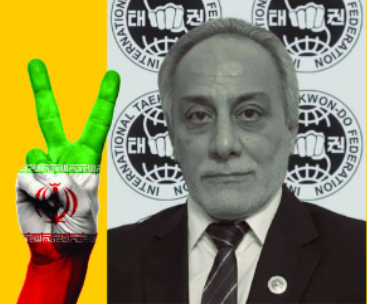 International Instructor Course, Ireland
(May 6th – 8th, 2022).
From the desk of Master Shane Fitzgibbon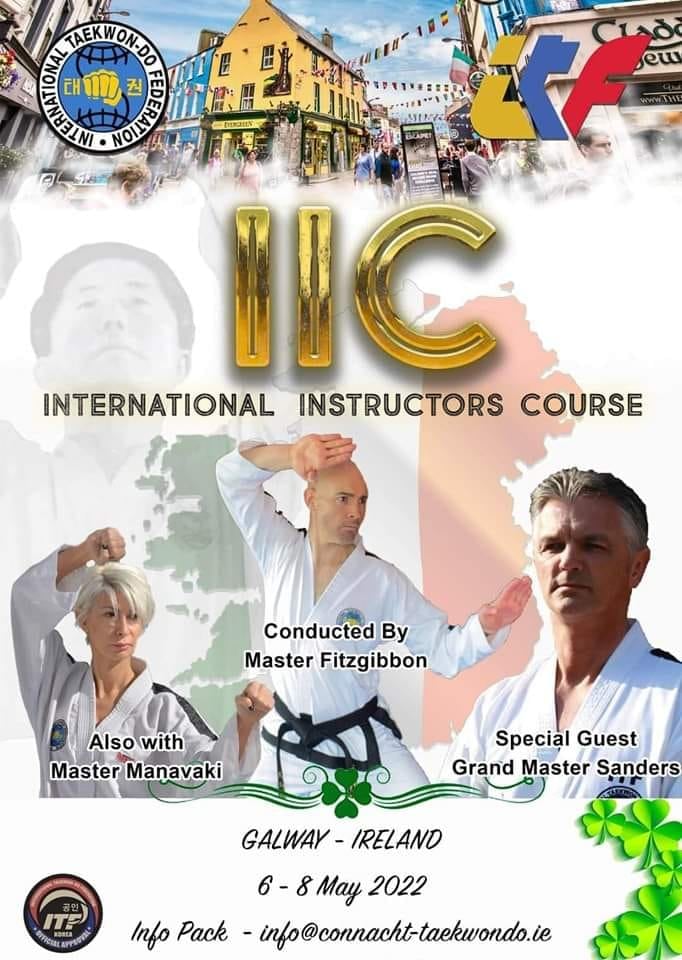 I look forward to welcoming you to Galway, in May 2022 for the ITF HQ International Instructor Course. For your information, there is a credit of 8 hours for the online material. Please find the link to the online folder below. It is highly recommended that you read the materials beforehand, so as to more easily apply it at the practical course. Please start with the "Read me first.pdf" document, before you delve into the videos.
Please note that there will be a nice mix of instructors from different organizations. If something on the videos is different from what you are currently doing, just make a note, and we can discuss it over the weekend. The course will be a collaboration of knowledge, so please don't hesitate to raise questions and concerns.
If you have any queries, don't hesitate to contact me.
Korea The Homeland of Taekwon-Do
From the desk of the chairman of the ITF HQ Ethics Committee
Mr. Marcelo Rodriguez, a "membership member" of ITF HQ has unlawfully promoted himself to 4th Degree Black Belt. Being only a 2nd Degree Black Belt, this action is against the ITF HQ rules. Mr. Rodriguez used his 4th Degree rank to conduct gradings, and awarded students grades which he was not authorized to do. This is a violation of Taekwon-Do tenets, rules and moral code of conduct. In our Federation, such behavior leads to serious consequences.
ITF HQ had serious concerns about Mr. Rodriguez's actions, which have caused a lot of confusion and damage to the good name of the Uruguayan International Taekwondo Association (AUTI) and the ITF HQ. We approached Mr. Rodriguez and challenged him with regards to his actions. Mr. Rodriguez' response was regret, and he agreed to follow the ITF HQ code of conduct, the regulations that guide all our members to ensure the safe and fair treatment of all.
Consequently, the management of ITF HQ decided that:
The 4th Dan certification of Mr. Marcelo Rodriguez is revoked, and he will be recognized as a 2nd Degree Black Belt. He will be able to take the 3rd Degree Black Belt test in accordance with the ITF rules (following the time between testing and the skill level),
All students promoted by Mr. Rodriguez will be re-assessed by an appropriate ITF HQ examiner, who will decide whether the ranks were awarded in accordance with the skills and ITF HQ rules,
All promotion materials that portray Mr. Rodriguez as a 4th Degree Black Belt must be permanently removed from every social media platform and publication.
These points were presented to Mr. Rodriguez in a letter dated 20th of February 2022. Regrettably, in spite of his regrets and promises to follow ITF HQ rules, Mr. Rodriguez failed to fulfill any of the above points, and still lists himself as a 4th degree. Consequently, his membership with ITF HQ has been terminated and he has been expelled from the organization.
Let it be known to all ITF communities that Mr. Rodriguez is qualified as a 2nd Dan only, and any acceptance of him as a 4th Dan by the ITF community will be a breach if ITF rules as set by the founder General Choi Hong Hi.

A theory of self defence.
From the desk of Master Michael Munyon, ITF HQ North American Regional Director

Did you know that there is a difference between self-defense and self-protection?
The term self-defense is mostly a legal one, whereas "self-protection" is the physical act of defensing yourself. When it comes to training self-protection, keep the following in mind to have a better chance of surviving an attack:
Fitness: If your attacker can only run 1 mile and you can run 3, you will have a better chance of outrunning your attacker, if that is the desired outcome.
Techniques: If your attacker only knows 10 attacks but you know 100, there's a good chance that you will win the match.
Attitude: If you can elevate your mental state of preparation to defend yourself and dominate, you'll enhance your ability to survive an attack.
Logic: This requires you to utilize training or past experiences to make decisions that will help you in a confrontation.
Environment: Where you make your stand is important. Combining logic and environment, one would not do a reverse back kick on ice. The danger and risk of falling or slipping would be too high.
Other things to consider during training includes changing up your training partners. When possible, train with someone who wrestles or has a boxing background. Their techniques and input would greatly aid you with your self-defense and self-protection training.
Work on tactics and strategies to help you react faster. Visualize having your partner, child or pet with you during your training. These details will cause you to rethink how you'd react against one or more attackers.
When your safety is one the line, remember one thing – "If you can't get out of a fight, get into it."
ITF HQ seminars in Ethiopia (March 2022) – a report.
From the desk of Master Zibby Kruk
For a long time, Mr. Abera Milkesa, the leader of the Ethiopian Taekwondo Association, had requested ITF HQ to conduct a seminar and attestation of their members in Ethiopia. After a lot of discussion and planning, it was agreed that these events will take place between 18-20 March 2022 in the capital city of Ethiopia, Addis Ababa. A team of instructors was formed, consisting of myself, Master Zibby Kruk, GM Rudolf Kang (Russia), and Master Michael Munyon (USA). The agenda of the 2-day seminar included the principles of Taekwon-Do, fundamentals, biomechanics of Taekwon-Do, and methods of stretching. Besides the Taekwon-Do seminars, the program of the visit included Dan testing, meeting government officials, and visiting an orphanage.
Unfortunately, after the completion of all the arrangements, GM Kang was unable to travel to Ethiopia due to the problems caused by the war between Ukraine and Russia. This situation necessitated the invitation of another instructor, and we were very fortunate that Master Colin Bakker from the Netherlands made himself available on very short notice to take GM Kang's place.
On the evening of our arrival, we had dinner in the Torhayloch golf club, where we tasted traditional Ethiopian cuisine, and discussed the event schedule and preparation. We had expected approximately 600-700 participants, but what we didn't know was that at that time, enrollment was still ongoing. The next day, we inspected the venue for the event, which seemed adequate for our purpose.

The seminar
On the first day of the seminar, we were thrilled to see that there were more than 1200 participants in attendance, more than twice of what we anticipated. The seminar was officially opened by the Ethiopian culture and tourism sports minister, DATA Ambassador Mesfin Chernet. He welcomed both the Taekwon-Do Masters as well as participants of the seminar and wished us a successful event. All three of us received a beautiful Ethiopian tracksuit jacket each from him and were cordially invited to the ministerial office for further talks after the completion of the seminars. As a result of the wonderful welcoming ceremony, the seminar started a little later than anticipated and was run as one long session instead of the two sessions that we had initially planned.
The seminar began with warm-up exercises and some educational PowerPoint presentations conducted by Master Kruk. It was followed by Master Bakker leading the group into tul training (Chon ji) and dallyon drills. Master Munyon led more warm-ups, fundamental movements, Do-San Tul training, and his favorite Hosin Sul (self-defense). Initially, it was challenging to teach such a large group in a fully packed location. However, with long-term experience in Taekwon-Do, a good dose of imagination, and a bit of trial and error, the entire group was repositioned and divided into subgroups. The masters positioned themselves in the balcony which allowed the participants to clearly see the instructions and follow along.
In the evening we enjoyed some delicious fusion cuisine in the Union Restaurant, discussed the teaching strategy for the next day's seminar, and enjoy the evening scenery around the Addis Ababa Museum.
On the second day, the seminar was conducted in two parts. We covered more fundamental movements and basic patterns and applications in the morning. Because GM Kang was unable to come in person, we arranged an online session was arranged where he and his students demonstrated the execution of a flexibility program. All students were given the tools to practice this on their own.
The afternoon session included technical aspects and patterns. The participants were divided into 3 groups – Master Colin Bakker worked with the red belt group, Master Munyon with the 1st and 2nd Dan group, and Master Kruk with the 3rd and 4th Dan group. The time passed by very quickly and we were surprised when we were called to stop teaching. We were then invited to come to the main table and participate in the closing ceremony and the award ceremony.
The organizers presented us with many presents such as traditional Ethiopian outfits, pictures of us printed on leather, and more. In return, Master Kruk presented a thank you letter to Mr. Milkesa from the ITF president Master Oh Chang Jin, and also an ITF HQ ring. Several other awards were also presented to the organizers and students.
The day was concluded by dinner, preparation for Dan testing the next day, and enjoyment over a delicious Ethiopian coffee in the nearby hotel coffee shop.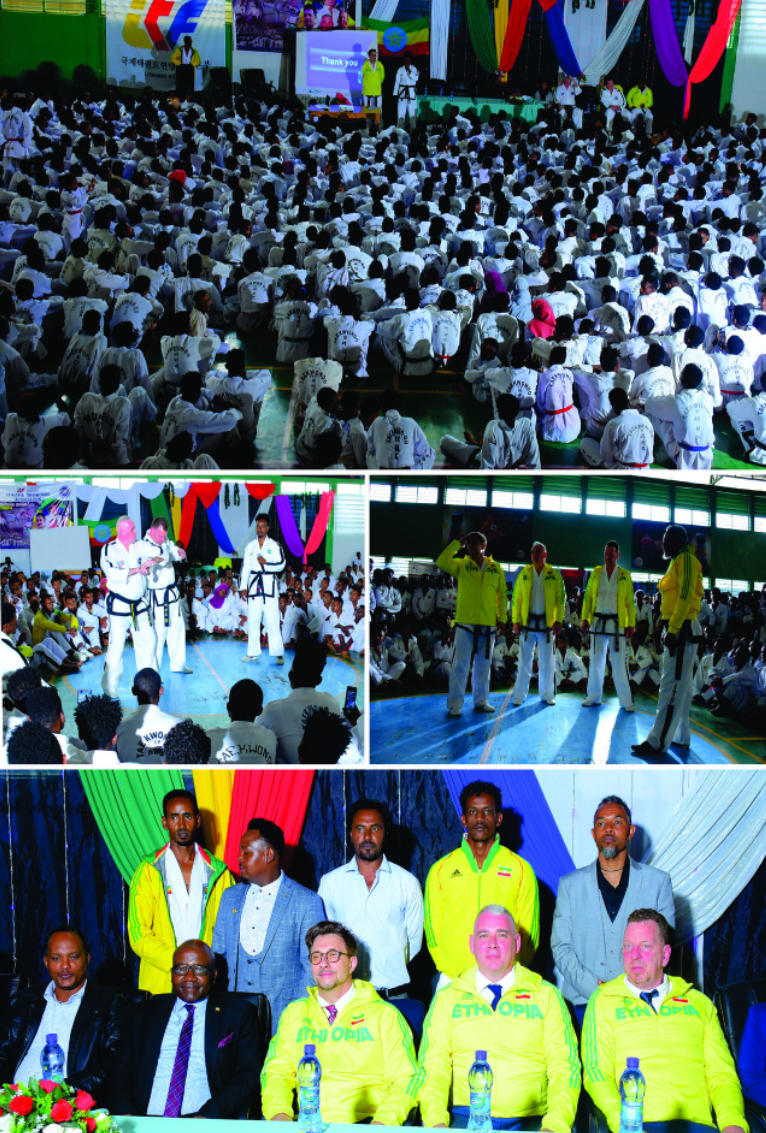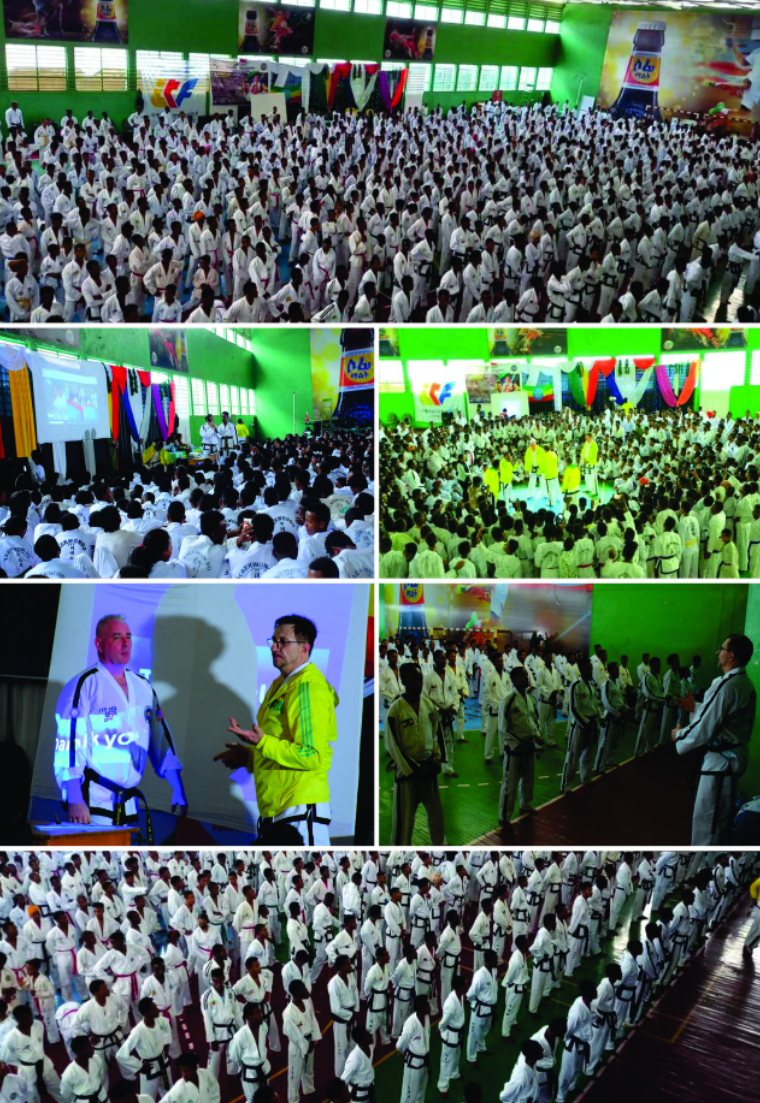 Dan testing
Due to the large number of applicants (200 for 1st Dan and around 150 for 2nd, 3rd, and 4th Dan), we began testing at 9am sharp. Each Master was assigned a group of participants to test. However, we were not aware that even during the testing, there were still new applicants applying to be tested! To our surprise, when we thought we completed the testing for 1st Dan, another 185 1st Dan candidates emerged for testing. To accommodate all applicants and not to jeopardize the quality of testing, we continued grading without breaks. All 548 candidates were tested by 18:00 in this way. It was an exhausting day, but we enjoyed ourselves as we were able to see a variety of skills and the potential presented by candidates.
The evening was quiet and relaxing. Masters Munyon and Bakker had dinner and talks with the organizers. Master Kruk had a research meeting with Professor Hailu Dadi Melka, where a potential collaboration project was discussed to create an opportunity to fix important meat quality issues in Ethiopia, provide more meat products for the Ethiopian people and the possibility to export to AEU countries.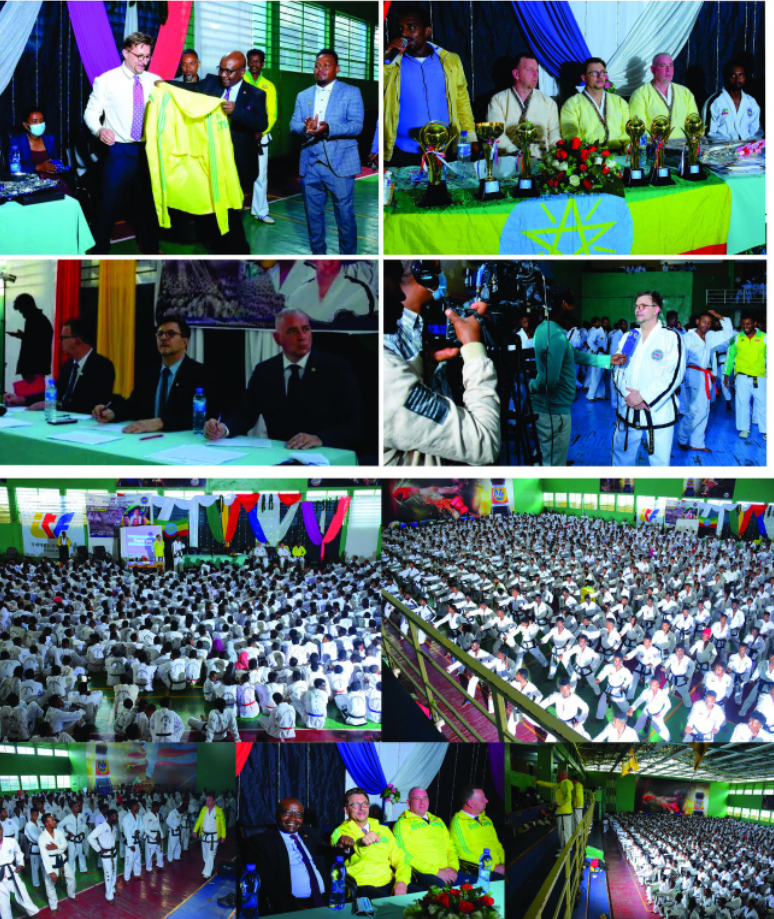 Post-event activities
Monday was an important day, where we started making the necessary arrangements to travel back home. We also traveled to Muday Charity Association, an orphanage in Addis Ababa, to meet its founder, Ms Muday Mitiku Melese, the management and children. We came bearing gifts and donations from various sources; in particular, Master Munyon had collected some money from his dojang members, that was given to Muday. We heard devastating stories of the struggle to keep the orphanage operating against all odds. It was a very emotional and an eye-opening experience to witness all this in person, and we realized how lucky we are to live where we do. We felt privileged to visit the Muday Charity Association and contribute a little to its upkeep and children. However, Muday is in constant need of help. If there is anybody who wishes to contribute, please visit the orphanage website and you will see the work they have been doing and a link on how you can donate and help. They are really in need, and would appreciate everything you can give them. Please find Muday here – https://www.mudayassociation.org/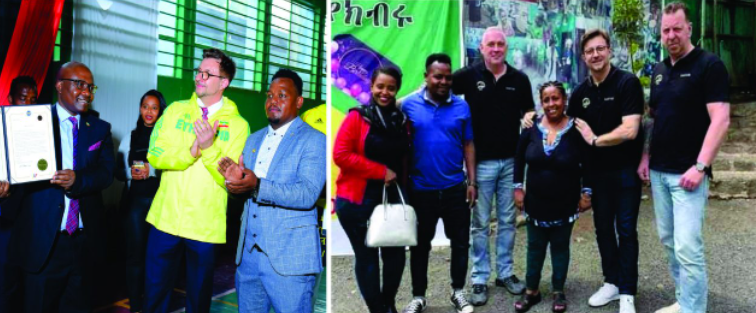 After visiting the orphanage, lunch, and collecting our negative PCR Covid test results, we returned to the hotel where we had a quiet dinner and enjoyed our last Ethiopian coffee with Master Bakker before he left Ethiopia that evening. Master Bakker was the last to arrive in Addis Ababa, and the first to leave – a true example of indomitable spirit, working hard to teach, interact and advise despite jet lag.
On our last day, we visited Unity Park to see Ethiopian wildlife, and learn some of the history of Ethiopia.
Finally, we bid farewell to our hosts, thanking them for their incredibly hard work in organizing the event as well as taking care of us. We made new friends, refreshed our existing contacts, and met an amazing group of people and students who were eager to learn. We have seen enormous potential in Ethiopia, and if directed correctly, we can expect many new high-performance, world class athletes from Ethiopia. The organizing team under the leadership of Mr. Abera Milkesa did an incredible job coordinating so many applications, participants, and the various moving elements of events. We were incredibly humbled by their caring, hard work and modesty, that provided an amazing environment for the masters to work and made the event an enormous success.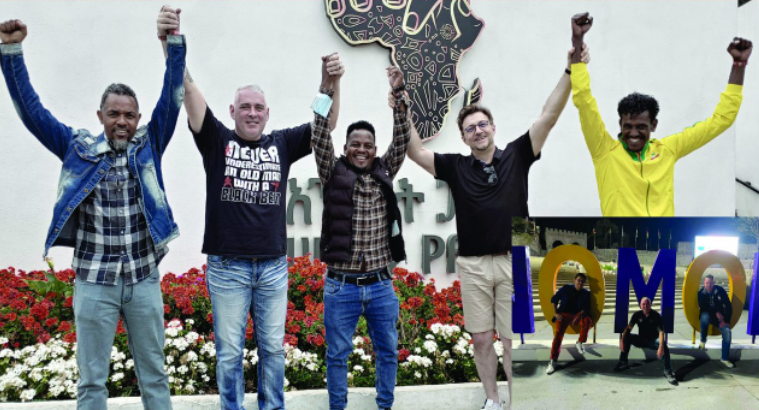 Concluding remarks
Master Zibby Kruk
I witnessed enormous potential, people presenting amazing ability to jump or performing the movements with great power and speed. I have seen focused students that were excited about even simple and small things. They deserve care and tools to help them emerge to the highest world level. Therefore, I believe that it is our responsibility as the Federation to make every effort to continue to support, educate and bring out the potential of the dedicated students of Ethiopia to its fullest.
Master Colin Bakker
I have seen appreciation, dedication, talent, and the enormous potential of the Ethiopian Taekwondoists, who were eager to learn and absorb. During this seminar, we laid a solid base for trust and further instruction. They will need continued guidance in the finer points of fundamental exercises and the application of patterns. Instructors in Ethiopia need to be brought up to date so they can work to spread their knowledge to their students. To this end, we must provide systematic, regular, and consistent instruction, both in person and virtually, at low cost to ensure everyone can benefit.
Master Michael Munyon
The Taekwon-Do students in Ethiopia are very energetic and athletic people. Their thirst for knowledge is an example for others to follow. With time, training, and mentorship on the details of Taekwon-Do techniques, they will have the ability to lead Africa in ITF Taekwon-Do. With continued guidance and instruction, the leadership of Ethiopia will learn more about the art, technical aspects of Taekwon-Do, and understand their roles as instructors and students. We must ensure we lay the road for future Master Leaders in Ethiopia. I feel they have the tools, now it's our job to help them learn how to use those tools.
Korea The Homeland of Taekwon-Do

Rings have been used throughout history and seem to be a universally understood and exclusive symbol that carries respect, and high esteem, whether wealth or power. In some cultures, rings are the symbol of belonging to a group or fraternity. To honour the founder of Taekwon-Do, General Choi Hong Hi, ITF HQ Korea has introduced rings analogous to the one worn by the founder as an optional part of the ITF Dan certification system.
Four individually designed ring types will be available for ITF practitioners, Instructors, Masters and Grandmasters (I – IX Dan) who are ITF HQ Korea members or mentors. Rings are also available for non-ITF HQ members. The recent "Ring" promotion has resulted in a flurry of applications, and since the rings are hand made by a small merchant, the waiting time may be up to a month. Therefore, we ask for your patience, and we will update every single applicant with a time frame for production and delivery. For those who would like to order an ITF HQ ring, please do it online following the link: https://www.itfofficial.org/ring-form/. The price is $250 USD for ITF HQ members + postage and $350 USD + postage for non-members.
Zibby Kruk (PhD, 8vo. Dan, Corea) – Editor en jefe
Sheba Agarwal (PhD, 1er Dan, Holanda) – Editora
Luke Danskin (4º Dan, Escocia) – Editor
Michael Munyon (7mo. Dan, EE. UU.) – Editor
Johny De la Rosa (7mo Dan, México) – Editor-Español
Muhammad Zaidi Surati (6to Dan, Malasia) – editor y diseñador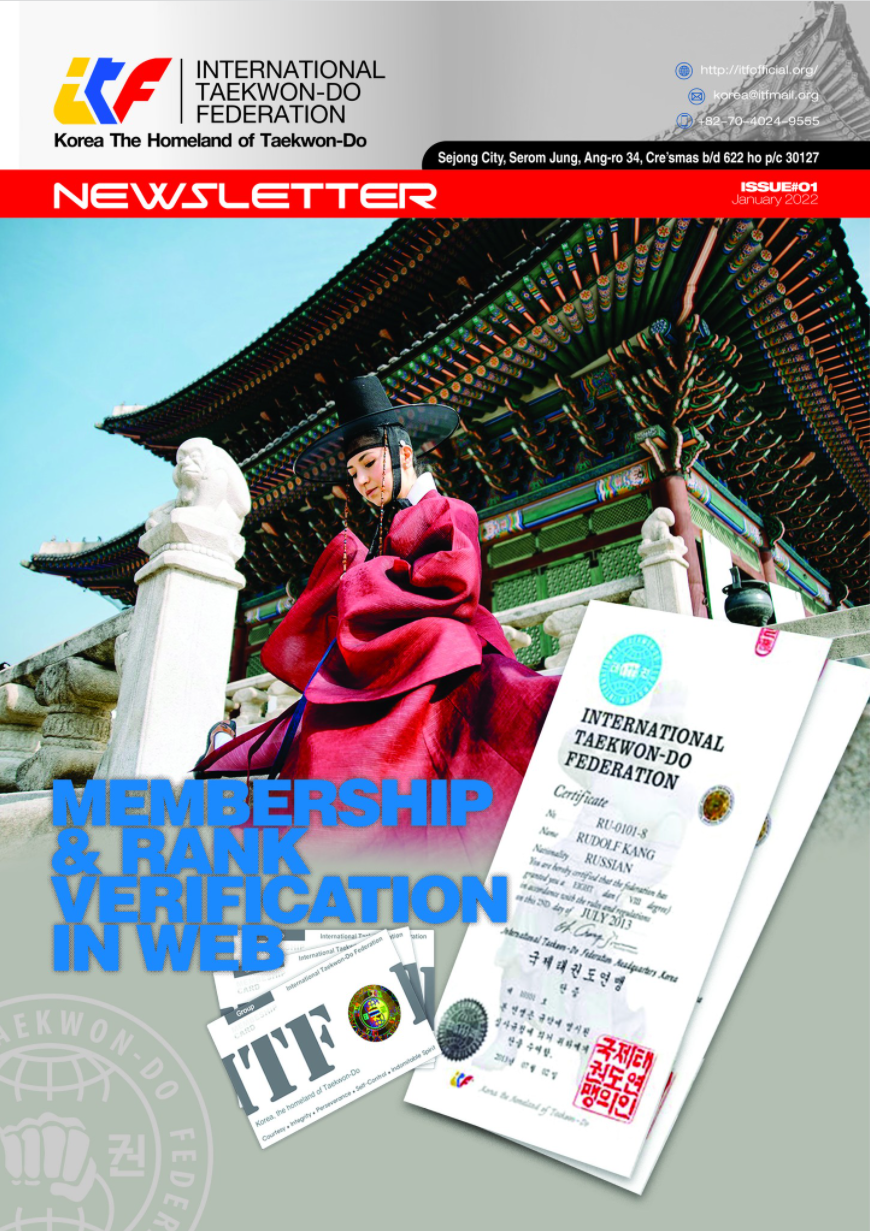 If you're an ITF HQ member and have news, updates or events you would like to have published in our newsletter; please send us a brief (1-2 paragraph) submission with photos to korea@itfmail.org. Please note that your club news should stay within your club, but we would love to share it with the Taekwon-Do community for anything else. You have worked hard to build your club and your students. Let ITF HQ help recognize your outstanding accomplishments along with your members.