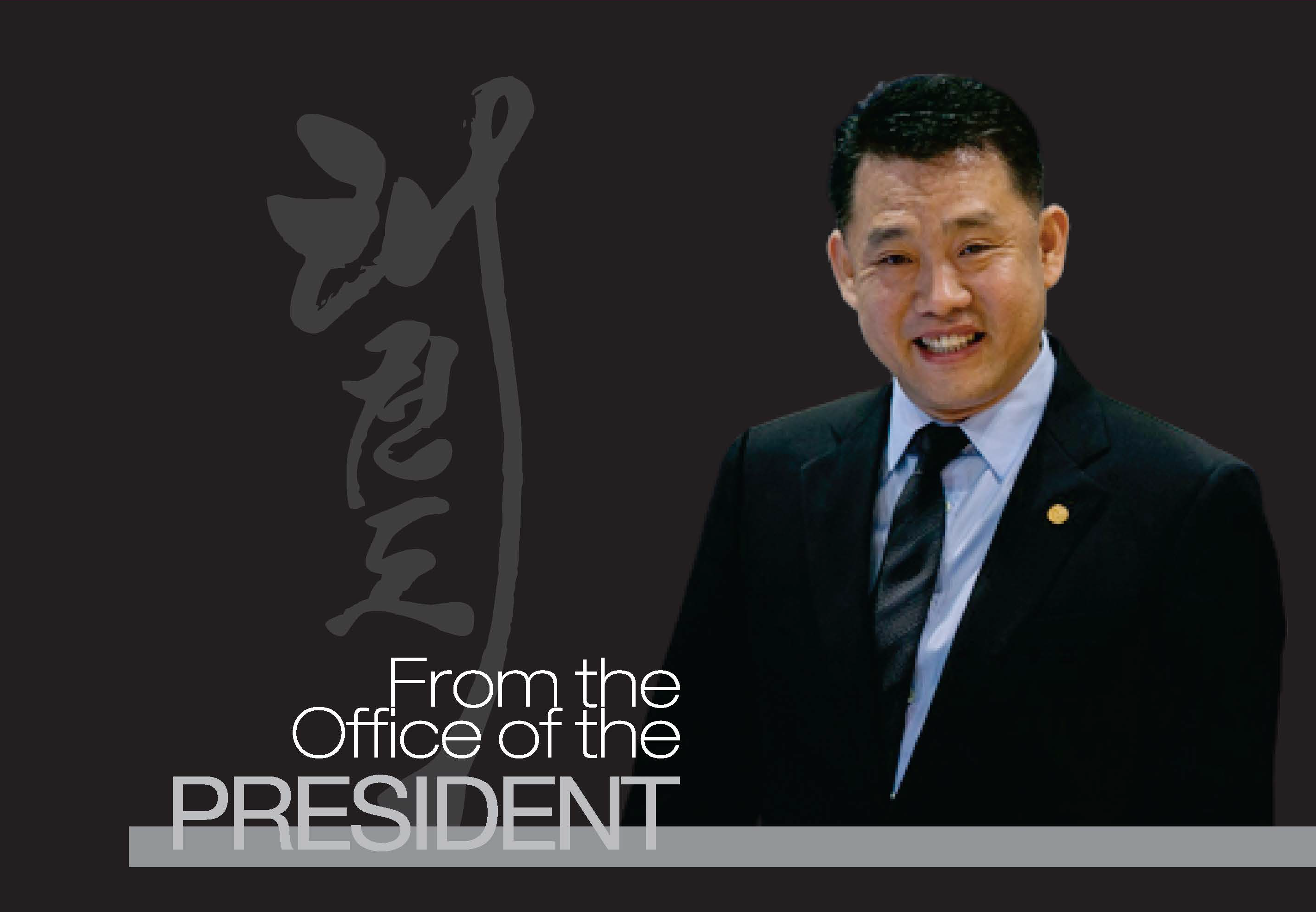 Dear Taekwon-Do Practitioners and Friends,
This month we paid respect to the founder of Taekwon-Do, General Choi Hong Hi, on the occasion of his 103rd birthday. Anniversaries such as these always initiate reflections about the art that the General created, and where we are now as its practitioners. Has his dream been fulfilled by his disciples?
Definitely, the situation today is complicated. We have been splintered into many groups, and unfortunately some either do not care about the General's legacy, or they make no effort to communicate and cooperate with each other.
ITF HQ is open to collaborating and is open to work with others in the betterment of the art. We have set up a Memorandum of Understanding (MOU) with GM Vega and the ITF Americas has amalgamated with ITF HQ. We talk openly and make plans with Traditional Taekwondo groups, organizing programs such as a combined IIC and tul tours, for example a program with ITF Spain.
This month, we also concluded the first face-to-face events in the Netherlands, Puerto Rico, Hong Kong, and Uruguay. I was quite worried about the rising numbers of COVID cases, but proper handling of the interaction between participants, vaccinations, and other precautions have allowed these events to take place successfully.  I hope that the lessons learnt over the last 2 years of the pandemic, together with the new approach and medicines against covid will open the door to safer interactions and consequently more successful face-to-face ITF events.
Finally, I announce with great sadness that the World of Taekwon-Do has lost another pioneer. Grand Master Park Jong Soo passed away just a few days ago. I met Grand Master Part for the first time in 2001 in Canada, and then several times in Korea. He was a true gentleman, a great technician, and a great human being. He was very approachable, kind, and supportive. My deepest condolences go to his immediate family, and the Taekwon-Do family from around the world.
In the meantime, stay safe, healthy, and as far as possible from covid-19.
태권  Oh Chang Jin – ITF HQ President
Korea The Homeland of Taekwon-Do
Passing away of a Pioneer
Grand Master Park was a true pioneer, born in Chung-Nam, Korea (1941), he began training under General Choi. In 1965, he was invited to coach German Taekwon–Do, around 1966 GM Park founded the Netherlands Taekwon-Do Association.  Throughout the 1960/70's, GM Park was a key figure in Taekwon-Do demonstration teams, demonstrating around the world. GM Park worked closely with General Choi for many years.  In 1968, GM park moved to Canada where he settled and founded GM Park's School of Taekwon-Do.
Grand Master Park was promoted to 9th dan by General Choi, he was also an assistant to General Choi at the last ever IIC taught by General Choi, organised by Snr Grand Master C Sereff and the USTF.  In recent years Grand Master Park continued to travel the world and teach Taekwon-Do.
Grand Master Park's passing is a massive loss to Taekwon-Do and humanity. ITF HQ extends our deepest condolences to Grand Master Park Jong Soo's family.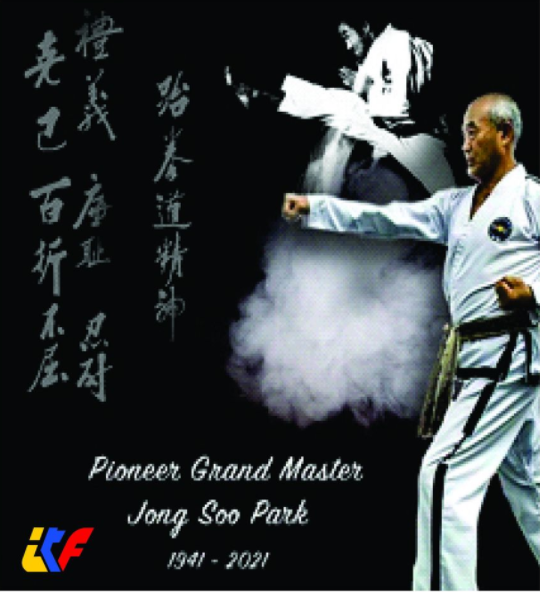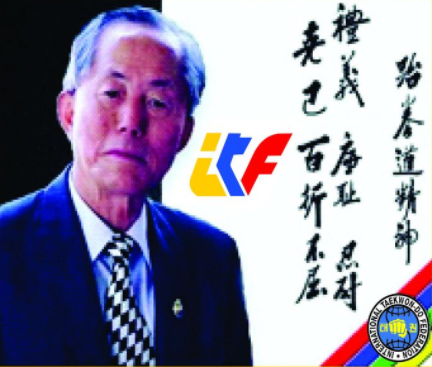 On 9 November 1918, our Taekwon-Do father, General Choi Hong HI was born.  We want to recognize his life's work by remembering his challenging childhood, military career, and contributions to the martial arts community.  General Choi Hong has positively impacted the world through his life's work.  We wish General Choi Hong Hi a heavenly 103rd birthday celebration by keeping his spirit and art alive.  He's paved the road for us, now it's time for us to live the path he's laid before us.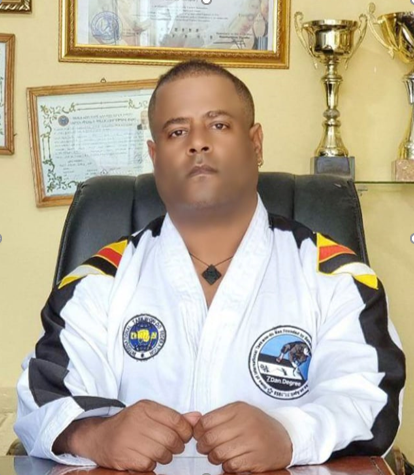 I am Master Aklilu Teka 7th Dan from Addis Ababa, Ethiopia, and I currently run a school called the "Sol Taekwon Do Club". There are seven associated branches under Abyssinia Taekwon Do Association, of which I am the president. Our Association spans across all of Addis Ababa, accounting for an estimated amount of three thousand students. In Ethiopia I am the only instructor with a license to teach individuals with disabilities.
Ever since I was little, I was always passionate about Taekwon do. I grew up in extreme poverty and, my father and mother worked as many jobs as possible to run our household. My siblings and I constantly worried about our next meal. Back then there not many options for young kids growing up in Ethiopia. If you were lucky, you would be able to escape through education. However, school was not where my future lay. Looking back, I believe that everything in my life happened for a reason. On my way from school one day, I noticed a Taekwon Do lesson being taught. The instructor was a friend of my family, and from then on, I began to train with him every day. Taekwon Do became my refuge from a harsh world. and it showed me how to be a man. At first it was difficult to master the lessons. My body was always sore, I began to feel sick and at some point, I would dread the day of the lesson. However, I persevered and continued to attend. Not long after, I felt lighter, flexible, refreshed. I learned how to respect myself, and my body began to enjoy the sport instead of fighting against it. I also learned the true meaning of the discipline. The more I moved up the ranks, the stronger my passion grew for Taekwon Do. I was able to turn my life around from a poor young man to a healthy purposeful man that could support his family with dignity and discipline.  
At some point I realized that I wanted to give the same opportunity to other struggling kids. From my own experience, I understood how the neighborhood was poor and unreliable, with kids not having a purpose and getting into trouble with the wrong crowd. I truly believed that I could change young girls' and boys' life through Taekwon Do, as my instructor had done for me. As an instructor, I realized that I had been blessed with another passion: teaching. I love every part of running my own school and seeing my students flourish through support and guidance. I realized then that Taekwon Do had the ability to change people's lives in an enormous way, just as it had mine. Even if some students did not continue with Taekwon Do, I noticed that they learned discipline, structure, and obedience in the dojang. Young adults learn how to set goals such as becoming healthy and fit, and also to work through their ego. They would work hard to achieve that goal and learn that nothing comes easy, I am delighted that my students are learning these lessons, just as I did. I recognize that Taekwon Do has taught me how to care of others and build my community with outstanding women and men, which in turn helps my country.
Grand Master Wong is one of the most senior ITF Taekwon-Do Instructors in Australia and the Oceania Region. He has continued teaching, developing and promoting Taekwon-Do in Australia since 1974 as Founder, Chief Instructor and Examiner of Taekwon-Do Kidokwan. He commenced Taekwon-Do Training at Melbourne University Taekwon-Do Club in 1969.  In 1970 he became one of the first ITF Taekwon-Do students of Master Rhee Chong Chul, the Father of Taekwon-Do in Australia. Master Rhee was a well-known Korean ITF Instructor and Pioneer teaching in Malacca, Malaysia during the formative years of General Choi's promotion of Taekwon-Do in Singapore and Malaysia. In 1973 he was Graded to I Dan Black Belt by Masters Rhee Chong Hup and Rhee Chong Chul. In 1974 he commenced teaching Taekwon-Do in Melbourne under Rhee International TKD. When he graded by Masters Rhee Chong Hup and Rhee Chong Chul to II Dan Black Belt, began running his Taekwon-Do Club in Melbourne. In 1988, he established Taekwon-Do Kidokwan under International Taekwon-Do Federation as Chief Instructor and Examiner of several Taekwon-Do clubs in Melbourne, Australia. Grand Master Wong joined the Global Taekwon-Do Federation under Grand Master Park Jung Tae in 1991. In 2021, he was promoted to IX Dan Grand Master by ITF HQ Korea.
Grand Master Wong's interest in learning Taekwon-Do began with a desire to learn Self Defence and develop physical fitness. He soon realise that Taekwon-Do is much more than what he expected. It's a way of life and soon the Spirit and Philosophy of General Choi's Taekwon-Do became a passion and a part of his life.
GM Vasilis seminar – Back to Basics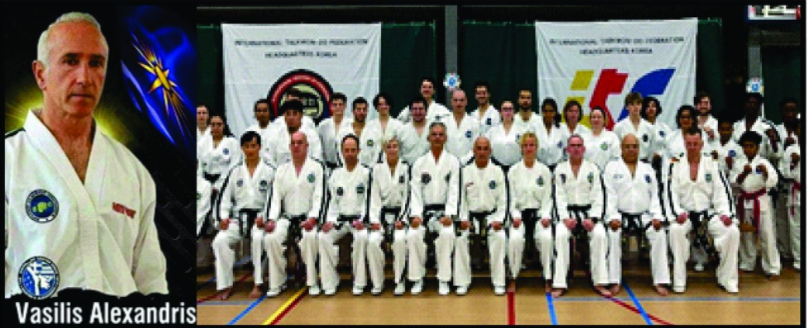 ITF-HQ NL was proud this month to host Grandmaster Vasilis Alexandris for a weekend seminar in Amsterdam. Organized by GM Peter Sanders and Master Ad Dekker, the seminar took place in the Sporthal Gaasperdam on the 20th and 21st of November. GM Vasilis was assisted by Master Natasa Manavaki, who translated and demonstrated techniques throughout. The seminar was well attended, with practitioners not only from the Netherlands, but also Belgium, Wales, Scotland, Germany and Slovakia.
GM Vasilis started with the fundamental premise that Taekwon-Do is essentially the art of self-defense, as stated by our founder, General Choi Hong Hi. To use Taekwon-Do effectively for self-defense, one must practice basic hand and feet techniques individually and repetitively, until muscle memory ensures that these techniques can be used successfully in real life situations. GM Vasilis used the weekend to demonstrate how to do this. We started off with hand techniques to the front and side of the head, and then the middle of the body. We practiced techniques such as the forward punch, the finger strike, hooking punch and elbow strike to the jaw, eyes, nose and temple. These can also be used on the body, at the solar plexus and ribs. We ended the first day with one step sparring, where we combined these different techniques in combinations to counter a forward punch attack.
The second day was a study in kicks. We learnt how to break each type of kick into their components to execute them properly. For example, a side kick can be practiced by pulling the knee up in a 45-degree angle, performing the kick, rechambering the knee, and putting down the foot. Each of these should be practiced in steps, either while leaning on a partner or on a side bar, until they are perfected. This technique is useful not only to improve one's own technique, but also to teach pupils and beginners.
In this way, we can understand the true intention of Taekwon-Do, and use it for every aspect of our practice, from patterns to sparring to self-defense. It was an instructive and intense seminar, and we are very grateful to GM Vasilis, Master Manavaki, and ITF-HQ NL for this wonderful opportunity to learn more about the art that we all love.
We would like to thank our sponsor F=m.a sprl, directed by Emmanuel Fantacci, Floreffe, Belgium for support.
The 2nd Korean Martial Arts International Charity Invitation Tournament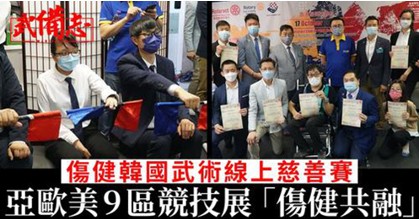 On October 17th, 2021, the 2nd Korean Martial Arts International Charity Invitation Tournament Competition was successfully held by the Rotaract Club of PHAB Hong Kong, which was sponsored by the Rotary Club of Ability Hong Kong and supported by District Governor Keith Chow and District Governor-nominee Andy Li as officiating guests.
This competition had over 200 abled and disabled Taekwondo players participating from nine different countries/regions. The Korean Martial Arts Competition embodies the integration of the physically handicapped and the able bodied.
ITFHQ & ITFA – IIC in Puerto Rico in Person

The International Taekwon-do Federation of the Americas and the International Taekwon-do Federation Head Quarter South Korea are proud to announce the first open, in-person International Instructor Course (IIC) held on the beautiful Island of Puerto Rico.
With all the regulations required by the island's health department, we were able to conduct the first IIC in person, together with South Korea's HQ and ITF The Americas. Historic certificates were handed out that were signed for the first time by the president of HQ Korea and the founder and president of ITF The Americas. Despite the many covid-19 restrictions, we were able to complete history, biometrics, one-step sparring, sparring techniques and tuls. Special thanks to the organizers Master José Caraballo, president of the ITFTA in Puerto Rico and Sabum Gabriel Candelaria, secretary general of the ITFTA in Puerto Rico for their great effort and and coordination of the seminar. I also want to thank Sabun Llauger Castillo of CASTILLO INSTITUTE OF MARTIAL ARTS, for his participation and support in the event. Thanks also to all participant for their support.
The 1st University Taekwon-Do World Championship

We are delighted to invite and welcome you to the 1st University Taekwon-Do World Championships, hosted by the British University Taekwon-Do League BUTL. This championship will take place across 26th & 27th March 2022 at the Manchester Metropolitan University, Manchester, England, United Kingdom. After a turbulent few year, the event originally set for 2020 will now take place in 2022.
Competitors aged 15+ years are eligible to enter Individual patterns and sparring, as well as team patterns and sparring. Colored belts are welcome for the World Cup on Saturday 26th March, while the Black Belt World Championships will take place on Sunday 27th March 2022.
We have dedicated this Championship to providing a world class experience at an affordable and reasonable cost, ensuring that the education of Taekwon-Do expands both nationally and internationally. We aim to provide a buildup of exciting events for those arriving early at the championship, and promise a unique experience for all attendees.
Categories will be Juniors (15-17 years), Adult (18-35 years) and Senior (36+ years). Entry costs are fixed at a one-off fee of 45 UK Pounds per competitor, and includes all events as well as personal insurance cover. Registration, rules and information documents can be found at www.butl.org.uk/worldchampionships. The deadline to enter the Championship is 9th March 2022. We can't wait to welcome you all to this very special event! For enquiries, please contact info@butl.org.uk.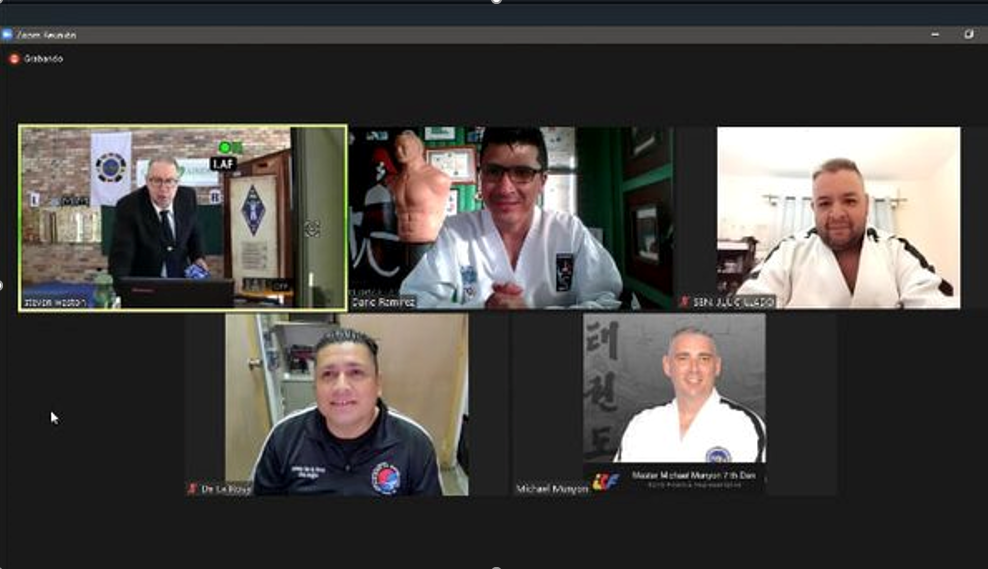 The Chair of ITF HQ Umpire Committee, (Master Steve Weston) has now begun training the "Trainers" of Umpires. These selected people will organise and run Umpire courses to provide accredited umpires for ITF HQ sanctioned events in the future. Over the weekends between the 20th November and the end of the year, this training will be completed using Zoom video conferencing. On completion, the participants will be the highest qualified members of the ITF HQ Umpire team, and will become members of the Umpire Committee. They will then be able to offer all levels of accreditation from Expert to single discipline accreditation for all aspiring umpires. Members have already successfully completed all of the Online Quizzes of the rules with over 80% accuracy on each component, and once they have completed the Zoom course will be able to offer face to face Umpire training on four continents. The rules of competition are available in English and have also been translated into Spanish to download on the ITF HQ website (www.itfofficial.org). The committee is working on providing a Russian version.
Now that there is light at the end of the tunnel thanks to the scientific development of vaccines and better treatments for COVID 19, we may soon be able to once again offer major continental events, and so the push to train ITF HQ qualified umpires is greater. Please watch this newsletter and our social media accounts for details on any forthcoming umpire courses if you are interested in pursuing this worthwhile aspect of Taekwon-Do training. The Umpire Committee looks forward to having you as part of our team.
Job Opportunity in Korea after COVID-19       Recovery – Expression of Interest.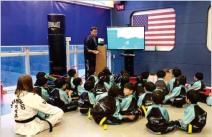 Teaching Taekwon-Do in English in South Korea.
The International Taekwon-Do Federation Headquarters in Korea is looking for young, energetic and experienced Taekwon-Do instructors (males or females), who are native English speakers, and would like to come to Korea and test their teaching skills utilizing a Taekwon-Do curriculum and a specially designed English language program. The essential criteria are:
1: Being a native English speaker
2: A minimum 1 Dan in Taekwon-Do ITF
3: Experience in conducting classes for children and teenagers.
For more information, please contact via email: korea@itfmail.org. The position(s) will be available as soon as the government regulation allows group activities to be conducted and COVID-19 restrictions eased.

Rings have been used throughout history and seem to be a universally understood and exclusive symbol that carries respect, and high esteem, whether wealth or power. In some cultures, rings are the symbol of belonging to a group or fraternity. To honour the founder of Taekwon-Do, General Choi Hong Hi, ITF HQ Korea has introduced rings analogous to the one worn by the founder as an optional part of the ITF Dan certification system.
Four individually designed ring types will be available for ITF practitioners, Instructors, Masters and Grandmasters (I – IX Dan) who are ITF HQ Korea members or mentors. Rings are also available for non-ITF HQ members. The recent "Ring" promotion has resulted in a flurry of applications, and since the rings are hand made by a small merchant, the waiting time may be up to a month. Therefore, we ask for your patience, and we will update every single applicant with a time frame for production and delivery.  For those who would like to order an ITF HQ ring, please do it online following the link: https://www.itfofficial.org/ring-form/. The price is $250 USD for ITF HQ members + postage and $350 USD + postage for non-members.
ITF HQ Newsletter editorial team
Zibby Kruk (PhD, 8th Degree, Korea) – Editor-in-chief
Sheba Agarwal (PhD, 1st Degree, The Netherlands) – Editor
Luke Danskin (4th Degree, Scotland) – Editor
Michael Munyon (7th Degree, USA) – Editor
Johny Del la Rosa (7th Degree, Mexico) – Editor-Spanish
Muhammad Zaidi Surati (6th Degree, Malaysia) – editor-designer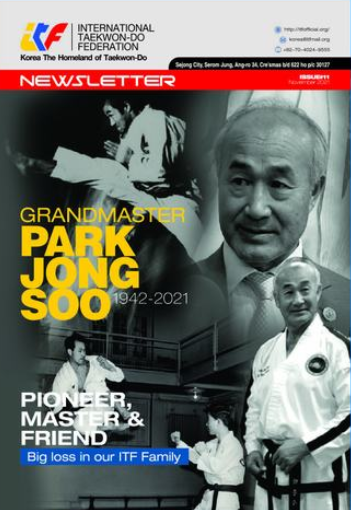 If you're an ITF HQ member and have news, updates or events you would like to have published in our newsletter; please send us a brief (1-2 paragraph) submission with photos to korea@itfmail.org.  Please note that your club news should stay within your club, but we would love to share it with the Taekwon-Do community for anything else.  You have worked hard to build your club and your students.  Let ITF HQ help recognize your outstanding accomplishments along with your members.